Very Professional
When we were looking for quotes to put up a new fence on our property, Ron was very prompt when responding. He was very professional and was able to give us a quote on the spot. Not only did Ron point out some fences that he did on the area, he was also the most reasonable quote that we received. When the team came to put up the fence they were very efficient and hard working. Ron answered any questions my wife and I had. I was amazed that in one week they were finished, as promised. The fence is great and the quality of workmanship shows. It is clear that Ron and his team take pride in what they do and I would strongly endorse this company to anyone. We plan on using this comapy for any future projects.
Impressed and Happy!
Upon recommendations from my work college, we asked Ron to provide a quote for a fence… very professional, and reasonable price… so, based on recommendation, without any other quotes, we had Ron and his team build our fence. Ron is fabulous with communications about the project start and progress. They were VERY efficient, professional and tidy (nothing was left in our yard!) with building our fence. We are very happy with the finished project – such a Purdy fence – thank-you, Ron and team! We are looking forward to our next project with your company. Highly recommend for any project.
Very Satisfied Customers
When we went looking for a quote Ron was the first to respond and came in with what ended up to be the best price. So, it only made sense for us to go with them. Ron was so easy to get a hold of when I had questions and he always dropped me a quick note to let me know what was going on. The final job they did on fencng off our backyard was nothing short of fantastic. We couldn't be happier. I had to ask for a pile of business cards because there is no doubt that I'll be recommending them to everybody I know that needs this kind of work done. Thanks a lot guys!
Satisfied Customers!
After obtaining a number of quotes for a new fence I decided to go with Ron due to the reasonableness of their quote and the professionalism dislayed by Ron and his team. They were quick to respond to all of my questions and really made me feel like a valued customer. The quality of the job was seconf to none and our new fence is fantastic! I highly recommend this team and will be spreading the word about their great work. Thanks a million guys!
Happy Customers 🙂
We hired them to replace a fence we lost during Igor. There is not enough space here for me to say all the great things about this team. I find the customer service in this city something to be desired but with this company they know how to treat their customers properly, This team was very efficient, professional, prompt and overall a hard working group of guys. Ron and his team are perfectionists, there was a small part of our neighbor's fence that needed some TLC and they took the initiative to care for it. I have already recommended this company and will continue to do so any chance I get. Thanks again for everything and looking forward to future business.
First Class Job All Around
Capital Fencing: 1. Showed up when they said they would and stayed on task until the job was done; 2. Was appropriately staffed and built the fence efficiently; 3. Delivered a neat and clean finished product; 4. Came in consistent with their quote (straight up and no nonsense); Repaired loose siding on my home free of charge. First Class!
New Fence
My husband and I work away, we contacted Ron and his crew to build our fence. I have to say that I was very relaxed knowing that I had a crew around my new home that takes pride in their work. Ron had sent pics of all stages of the fence installation. My husband and I would recommend Ron to anyone…Also they will be putting steps on the side of my house from the front of the house to the back yard.. Great job guys, I am very happy with your work…
So happy and very pleased
According to the Oxford Dictionary the word "ARTISAN" is defined as: "A skilled worker who makes things by hand".  The Capital Fencing and Back Yard Living Inc. TEAM are true Artisans!
Ron, Mike and their team built our new fence, renovated our deck and other requested tasks with such skill, care and kindness that sometimes we thought they were the owners.  That's how proud and professionally they complete every task with efficiency and experience.  Their proud Newfoundland work ethic and dependability came to the forefront and we ended up with a lot of very pleasing results that now looks like a setting from a Back Yard Living Magazine and on budget.  They are welcomed back to our abode at any time.
Many Thanks,
Totally Impressed
From the initial estimate to the finished product we are suitably impressed. The reasonable price coupled with a prompt and skillful team, who clearly take pride in their work, have garnered another happy and satisfied customer. Roger & Sue
Awesome Job!
We LOVE our new steps and ramp! Trustworthy and dependable folks to deal with AND they take PRIDE in their craftsmanship. Thank you!!
Quality work on time!
We could not be happier with the service and craftsmanship provided during the construction of our new shed by Ron & Jordan of Capital Fencing! After just recently building a new home, we have been disappointed time and again by not having contractors complete their work on time….. Not the issue with these guys though! They started and completed the project in the timeline given. It was a complete pleasure to have these gentleman around. Looking forward to bringing them in for the next project! 👍🏼🔨🔨🔨
Highly Recommend!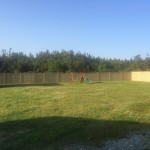 Ron & his team built a fence for our backyard. From initial estimate to final product they went above & beyond to ensure we were happy. They are very professional and take pride in their work. They are reasonably priced, efficient & tidy and added some extra final touches. We are very satisfied with our new fence, and would highly recommend their work. Thanks!
Excellent experience
Excellent experience dealing with Capital Fencing. My wife and I couldn't have better things to say about our experience. Workers were dedicated, on time, and the build quality/finishing was very impressive. They even cleaned up their job site before leaving. I'd recommend Capital Fencing to anyone who wants a quality Shed, Barn, or Garage built. The workers were friendly and curtious and I can't say much more than "well done".
Cheers Capital Fencing/Ron and thanks for the great work!
Deck
IMPRESSED with Capital Fencing. They recently completed a top quality deck at a fair price for me. Excellent craftsmanship, on time and on budget! Accommodating to specific requests. I would HIGHLY recommend Capital Fencing to anyone looking for property additions, renovations or upgrades. Trevor
Satisfied Customers!
We asked Ron if he could quote for changing a rec room into a TV room and extra bedroom, with installed closet, and also for altering a laundry room into a half bath and a refinished laundry room. With the TV programs these days all about other persons experiencing nightmares due to costs, or quality of work, or both, its understandable for anyone to be a little leery. Ron and his team performed all the work (fully finished and fully painted, ready for occupation/use) in time and on budget . They have access to a fully qualified, quality plumber. Most people would wonder about taking time off from work, to supervise or whatever. We left them our house. Nothing was touched or moved. We have a pet dog. She thought the world of Ron and his team. They were kind to her. No issues at all. We are glad we did it, compared to these TV programs, it was a pleasure. All to code, all on time, all in budget. Ron and team, thanks. Ben and Dolores
Great work and price!
Had a fence built in my backyard this past summer and was very pleased with the price, workmanship and job done. It survived IGOR so you know its not going anywhere. You guys busy next spring I may have a deck project for you guys! Thanks again for the job well done on the fence.
SHED HAPPY
My husband has been wanting a new shed built for a few years. We decided this was the year. I like to get three quotes to compare. When I called Ron, he provided me with different options and the prices immediately – no waiting for him to get back to me. He was the cheapest and even though it was the end of June and with Government's increase in HST the first of July, Ron did not increase his final price. We found Ron to be very polite and answered all our questions. He showed up when he said he would which we value, tidied the yard at the end of each day and removed all the trash when the project was finished. Even though Ron was a complete stranger to us, we instantly found him to be very trustworthy. In fact, we left our house open to him while we were at work – we did not feel we had to be in the house when it was unlocked. Of course, like many women concerned about the appearance of things, I decided the shed would look better with two windows. Ron picked up the extra window and installed it. When the shed was almost completed, we had another small job we wanted done. Ron again picked up the material and completed the smaller project immediately after finishing the shed. I am sure he could have said he would have to come back another time because it was a new project which could have cost us more but he didn't which we very much appreciated. We are very happy with our shed and the job performed by Ron and Jordan. We would definitely hire Ron for another project and highly recommend him to anybody looking to have a shed built or any other project! Thank you! Diane and Stan
Very Happy
I'm very happy. I can't get over the job you did on my fence. My deck looks way better now I am very happy with it. I am blown away how good it looks. Thank you so much Ron
Strongly Recommend
I wanted to pass along my sincere thank-you for your construction of 16'x24' garage this April. Although I had not heard of Capital Fencing and Back Yard Living Inc. prior to this project, they were strongly recommend to me by building supplies company. Now I am in the same position and would strongly recommend Ron Churchill and his team based on the quality of work and professionalism throughout the planning, materials acquisition and construction phase. From the ground preparation, concrete to final shingles the project was on time and on budget. As soon as their schedule permits, I look forward to their participation in a second home renovation project. Thanks again for the great results and positive project experience!
Incredible workmanship!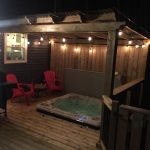 We are so incredibly happy with our deck extension, courtesy of Capital Fencing! The workmanship is surpassed by none…The final product exceeded all of my dreams and expectations for what that space would be!
Not only did we receive amazing service and product, the quote we were given was 2 and 3 thousand dollars cheaper than two other companies had given us!
I highly recommend this company.